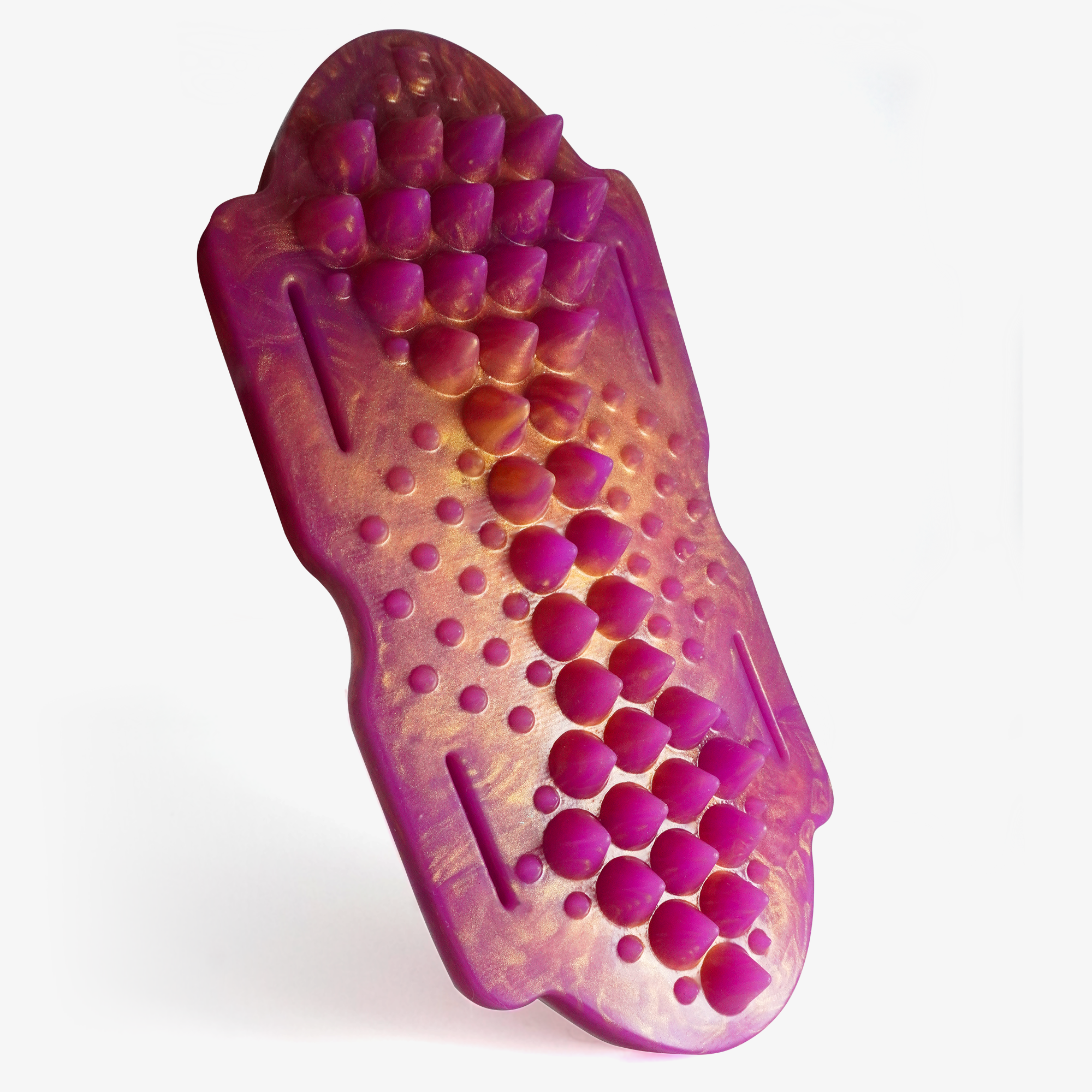 Description
The Spiked Grinder boasts a bed of generously-sized, soft spongy spikes that are sure to send waves of delight coursing through your senses. Each spike is strategically placed to awaken every nerve ending, creating a symphony of sensations that will have you singing with pleasure.

Our spiked grinding mat is here to spice up your solo play or add a tantalising twist to your shared experiences and has been designed to cater to both men and women.

Each Grinder comes with two black nylon straps fitted (2.5ft / 0.7m each) with quick side release buckles to strap it to a pillow, your hand, a thigh or a forearm and then grind the night away.

We recommend you use a jolly good dose of your favourite lube for extra slip 'n' slide and if you want an even smoother finish, upgrade your grinder with our Silky Smooth Upgrade.

Silky Smooth Upgrade
We offer the ability to upgrade your grinder with a silky smooth finish. To achieve this silky smooth finish, we use an additive derived from Durian tree nuts, ultimately resulting in a more luxuriously smooth feel that glides rather than grips like other silicones.

We recommend you avoid the silky smooth upgrade if:
1. You are allergic to durian, tree nuts and tree nut derivatives or musk thistle seed
2. You are sensitive to smell - Normal silicone has no scent however using silky smooth will give the silicone a subtle, nutty scent.


Why do you only use platinum silicone?

We use platinum silicone so you get a toy that is non-pourous (meaning when you clean it, it gets fully clean and can't transmit bacteria), doesn't smell, is body safe and feels fantastic.

If you'd like to learn more about cleaning your toys, read our sex toy care guide.
What are the different firmness options?

We offer 3 firmness options:


Medium Firmness - 10A on the Shore hardness scale
Soft Firmness - 5A on the Shore hardness scale.
Super Soft Firmness - 0040 on the Shore hardness scale

For more information about our firmness options see our firmness guide.
What are the different colour options?

We offer 6 different colour styles, though not all are available on every product.

Surprise Me Basic - Leave the decision in our capable hands and we'll choose a solid colour that compliments your toy selection. 
Surprise Me Premium - Leave the decision to us and we'll get creative with two or more colours. We love this choice as it allows us to get experimental with all of our colours, often resulting in our best pours. 
Solid - One colour that will run evenly throughout your toy
Fade - Two colours combined that are gradually blended together. Colour 1 will be the tip of your toy and Colour 2 will be the shaft and base. 
Marble - Two colours combined resulting in a veining effect similar to classic marble. 
UC Trademark - This is a product-specific colour. The main image of the product is the UC Trademark colour.

For more information, take a look at our colour guide.
This product has no reviews yet.
This product has no reviews yet.